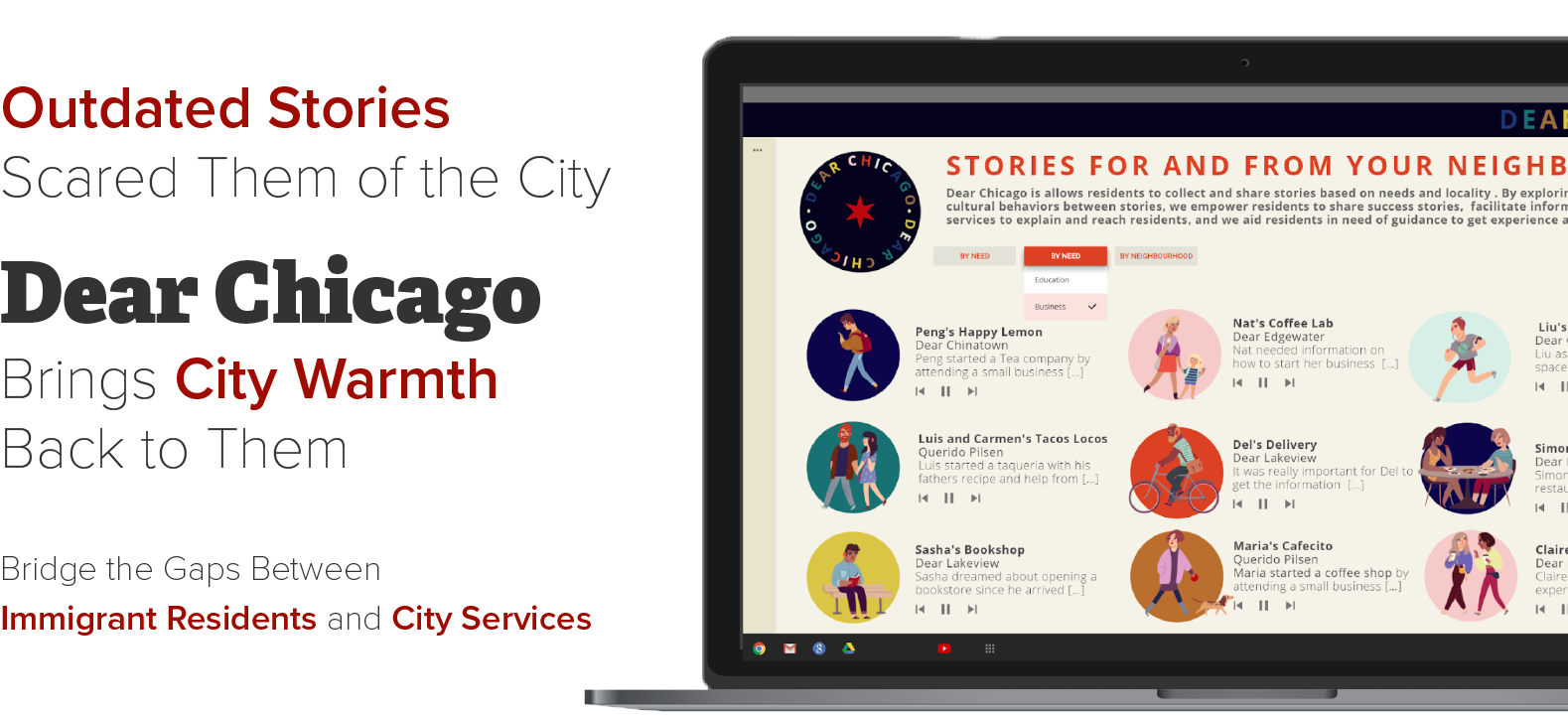 City of Chicago, Department of Innovation & Technology  (DoIT)
Liying Peng, Beatriz Alessio, Ernesto Garcia, Sara Gnolek, Bradley Sedor
January 2019 - March 2019
Research Lead, Service Designer
Service Safari, Stakeholder Interview, In-depth user Interview, In-context Concept Testing, Co-creation, Focus Group
Stakeholder Map, User Journey Map, Service Blueprint, User Story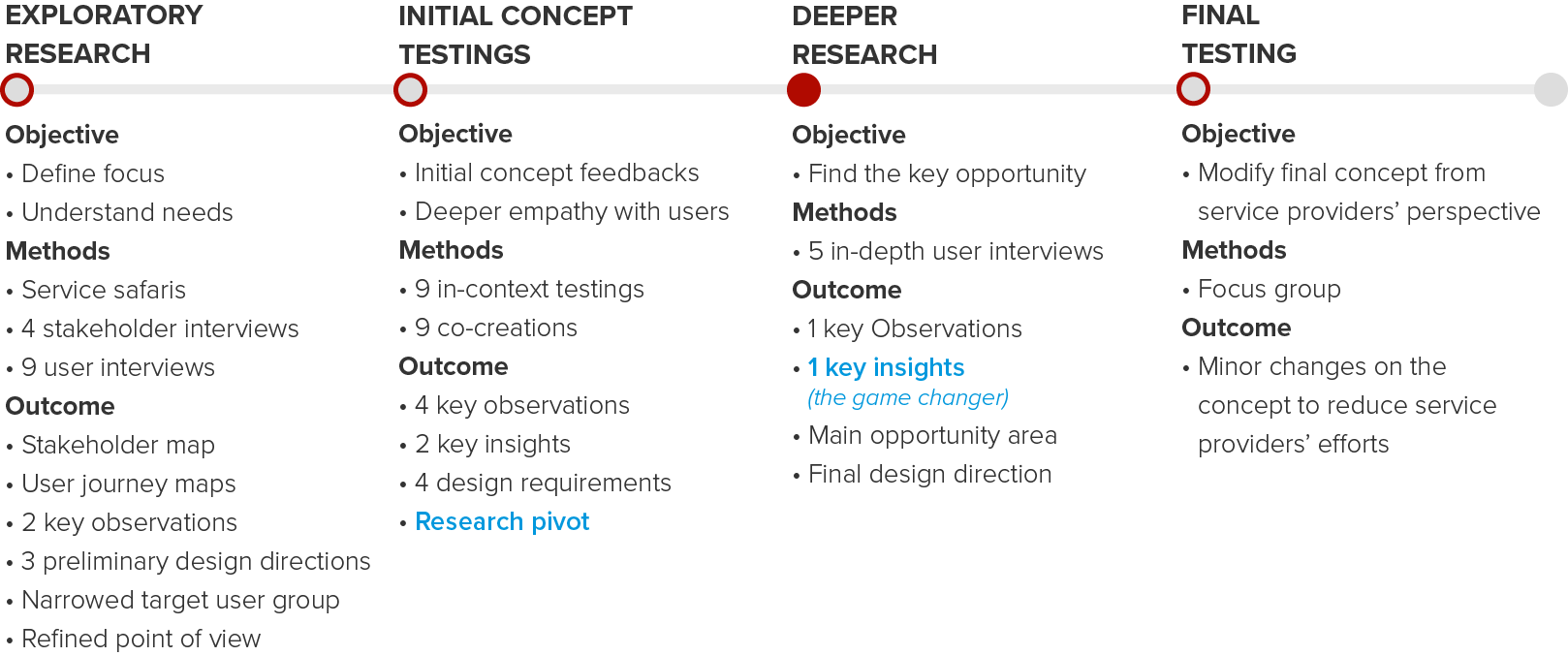 Since our client as a
city department
 had limited resources but were facing a complex administrative system, 
our research must be insightful enough
to develop a solid, actionable and valuable design concept that worth city resource investments. However, the
user recruiting
process was very challenging, because immigrant residents, the group that we decided to focus on, were a very sensitive and insecure group. We spent huge efforts and experienced countless refusals, but finally successfully found some immigrant families who were willing to participate in our research. 
Special thanks to them!
The final concept Dear Chicago is a story sharing platform that encourages sharing of service needs based stories in immigrant communities. Through the online archive or the offline physical listening stations, immigrant residents could share their stories of utilizing city services in their native languages, empowering other immigrant residents with to interact with city services. 
All design directions, design requirements and design decisions were driven and made by research observations and insights.
The final concept was presented to client and other non-design background audiences from different city departments. Audiences shown strong interest on the concept and the
research stories
behind it.
​​​​​​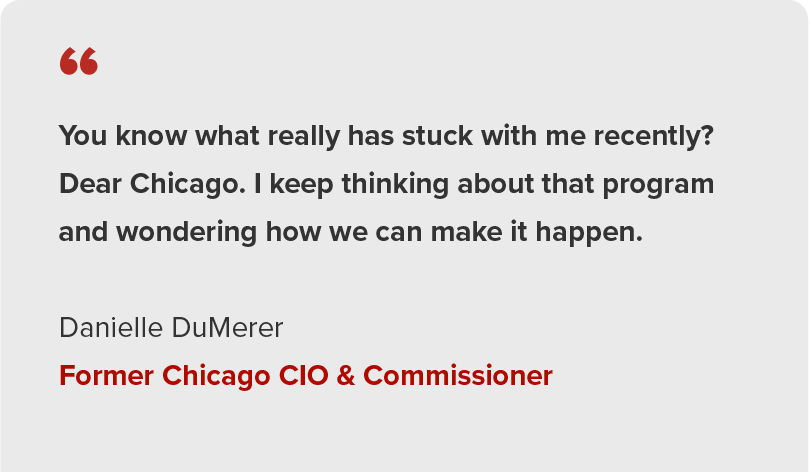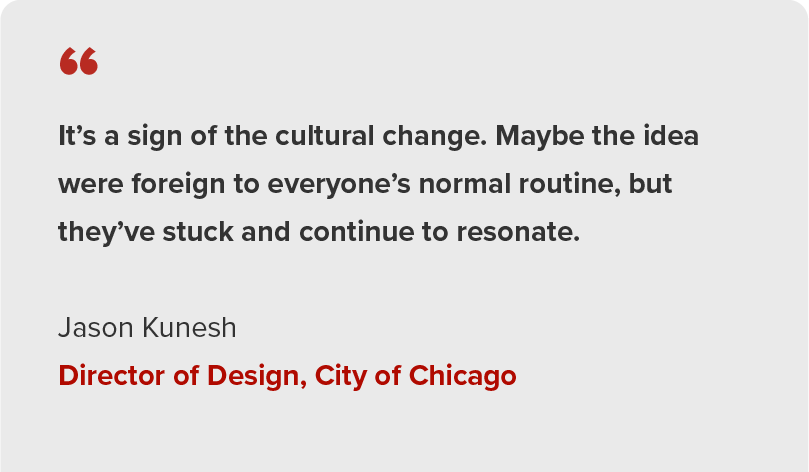 Exploratory R

e

sea

rch

to Define Focus
City of Chicago consists of close to 50 city departments with hundreds of services provided to the city residents, while new residents move to Chicago each year spread broad in ages, genders and culture background. The scope of the challenge we received was too broad for us to provide a delicate design solution. Therefore, we started with a round of exploratory research in various service providers and new residents, in order to
refine point of view
and
narrow down the target user scope
.
#Service Safari#
 To immersively experience not only the various city services, but also the process of searching and navigating city service resources. 
#4 Stakeholder Interviews#
 To understand the constraints for service providers.
#9 User Interviews# 
To study different new residents' journey from knowing nothing about the city to successfully accessing the city services that are provided to them.
#3 Preliminary Design Directions#
#Narrowed Target User Group#
Understand the Service Providers' Limitations
Service Safaris and 4 Stakeholder Interviews
We started the
service safaris
by trying to search for well-fit city services for different hypothetical using scenarios. Then with the ones we successfully navigated to, we personally experienced the services as Chicago residents.
4 stakeholder interviews
were then conducted with Chicago Youth Centers, Chicago Department of Family & Support Services, Chicago Public Library and Office of New Americans. All 4 departments we interviewed aim at providing services to a specific group of residents.
A complex service stakeholder map for Chicago new residents was built based on the service safaris and interviews. Although we were very surprised to see the
high quantity
and
quality of various
city services
, the complex stakeholder map gave us a glimpse of
how
complex
it could be to
search and navigate
city services
either through digital platforms or in the field. 
Get to Know Different New Residents' Journey
9 User Interviews with 5 Types of New Residents
A total of
9 user interviews
were conducted with
5  types of new residents
who recently moved to Chicago - young adults, seniors, middle-aged parents, immigrants and youths about their experience of accessing city services. In our initial hypothesis, these 5 types of users would have the
highest requirements
on service quality or
largest barriers
to accessing the services.
5 journey maps
were constructed showing how new residents went from knowing nothing about the city to successfully accessing the city services they need.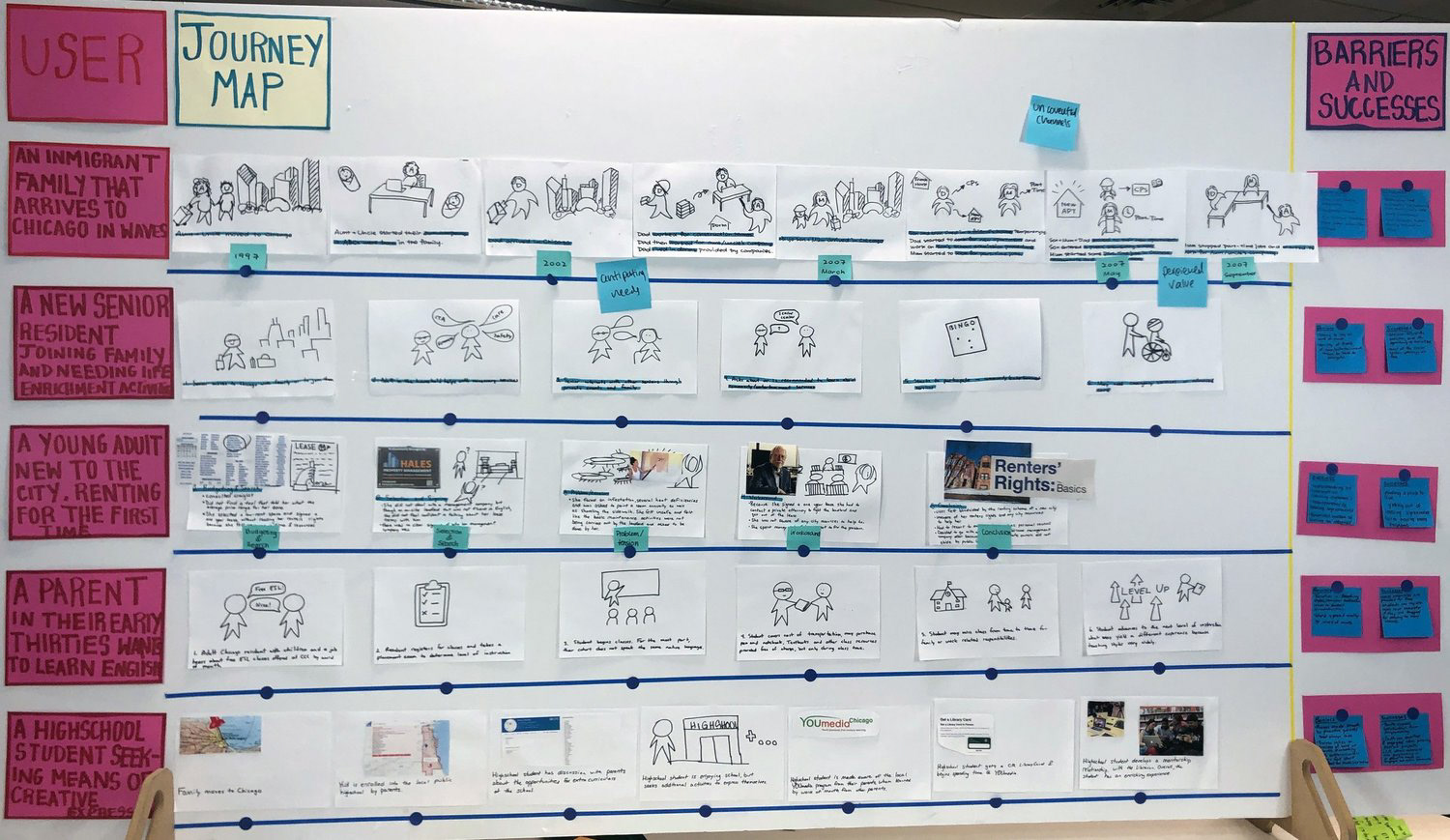 Gaps Between New Residents and the City: Lack of Awareness and Trust
​​​​​​​
2 Key Observations Generated from the Research
​​​​​​​​​​​​​​
From the stakeholder map and journey maps, gaps between new residents and city service providers were noticed:
#Observation 1#
Lack of Awareness
They know what they need, but do not know what the city offe

rs.
​​​​​​​
Barriers

like language, culture and unfamiliarity to the city
 make it difficult for new residents to seek out public services. Meanwhile, the
overload information
on government websites makes it difficult for new residents to find a well-fit program or solution.
#Obser

va

tion 2#
 

Lack of Trust
They know what the city offers, but do not trust what are offered.
​​​​​​​
City residents
correlate city services and their outreach channels (mostly government digital platforms) with

low value

and

negative feelings

because of past negative experiences.


Based upon the 2 key observations, we chose 3 preliminary design directions to further explore the solutions to increase new residents' awareness of the city services and trust to their outreach channels.
#Preliminary Design Direction 1#
Unconventional Information Channels
How Might We
 leverage current or developing new unconventional information channels that can overcome barriers like language, culture and unfamiliarity to the city to successfully aware new residents the existence of the city services.
#Preliminary
Design Direction 2#
Information Navigation
How Might We
 assist new residents to search and navigate to city services that are well-fit to their needs.
#Preliminary
Design Direction 3#
Authoritative and Positive Correlations
How Might We
 help new residents to correlate city services and their outreach channels with greater positiveness and authority.
Target the Extreme User Group: Immigrant Residents
​​​​​​​
Refined Point of view and Narrowed User Group
#

Target User Group

#
New Immigrant Residents
We recognized that immigrant residents are facing some of the greatest barriers in accessing and utilizing city services, and thus, if we can design a solution that promotes positive change for immigrant residents that are new to Chicago, we can take the design principles used and share them as the service experiences growth.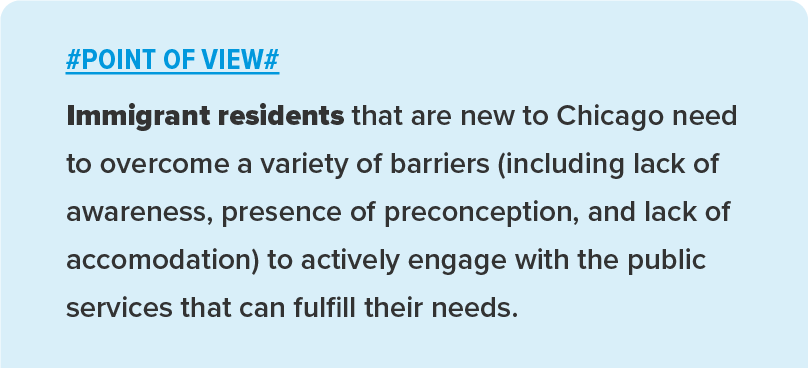 Initial Concept Testings For Deeper Empathy
To generate solutions to the refined point of view, we needed more research focusing on new immigrant residents. We decided to use the initial concepts generated based on the preliminary design directions as the media for further research, in order to obtain
deeper understanding of users' behaviors and attitudes
, as well as their
feedback on the concepts
. 
#13 Immigrant Families# 
We connected with 13 local immigrant families from 3 different immigrant communities in Chicago - Chinatown (Chinese community), Pilsen (Spanish community) and Uptown (Vietnamese community) for the testings. Since our team had both Chinese and Spanish speakers, we were lucky to be able to have very deep conversations with most of the families.
#In-context#
 Since concepts we tested involve with very intangible elements like information and outreach channel, we decided to implement our concept into users' live contexts, at their home and in their communities, to capture their most natural reactions to the prototypes. 
#Co-creation#​​​​​​​
Followed by the in-context testing sections, co-creation activities were conducted with each immigrant families to uncover their ideas and additional thoughts on the concepts. 
#4 Design Requirements#
​​​​​​​
Although first two groups of concepts later iterated to some of the key features of our final concept based on the testing results, users' reactions to the 3rd group of concepts pushed us to pivot towards even deeper research.
Unconventional Information Channels
1 Insight, 2 Observations, 1 Design Requirement, 1 Design Decisions
This group of concepts aimed at leveraging current or developing new culture specific unconventional information channels to increase the awareness of city services among these communities. 
Prototypes tested including city service information of local languages printed on different physical artifacts that are widely disseminated in the communities, as well as posted on local landmarks with high traffic.


Testings of this group of concepts, especially the co-creation sessions, triggered many conversations around users' past experiences of recalling and relocating seen informations. A important insight was synthesized from the testing results: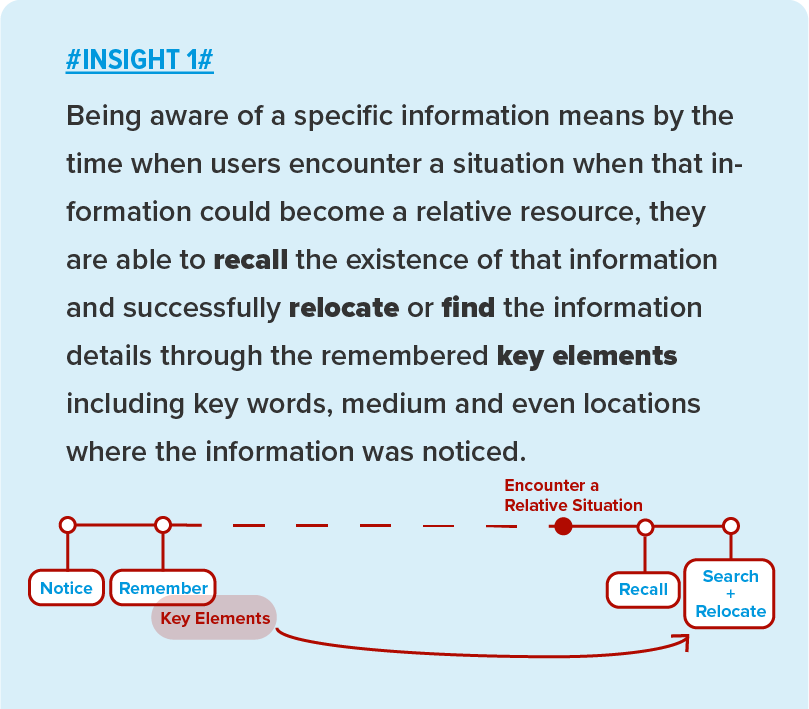 This insight was visualized into a journey of information awareness. Though the success of recalling, searching and relocating after encountering directly indicates the awareness of the information, the earlier part of the journey when users
notice
and
remember
the 
key elements
 plays decisive role in the success of the entire journey. We noticed that the key elements people remembered of a piece of information were all highly visual differentiated. This led to our first design requirement:
#Design Requirement 1#
Distinguishable Visual Branding
Then as we dived deeper into what else could trigger users to notice the information and remember the key elements of a piece of information, 2 key observations were noticed:

Passive waiting time triggers users to notice surroundings.
Information posted on landmarks where people spend their
passive waiting time
 like bus stops and train stations has large possibilities to be
read
and therefore
processed
and
remembered
.

Based on these two observations, our second design requirement along with its corresponding design decisions were made:
1 Observation, 1 Insight, 1 Design Requirement
This group of concepts aimed at exploring different navigation and filtering system to help new immigrant residents to faster search and locate the city services that are well-fit to their needs with less effort.
Prototypes tested were paper prototypes of digital interfaces of a information filtering system we built.


Most feedbacks we got to the concept of establish a filtering system for all the city service resources were positive. Our users knew well of how to use filter functions on digital platform and were able to accurately identify subcategories that fit their own needs. Additionally, a pattern of users preferences for the hierarchy ordering of the filtering system was discovered and led to our second insight:
Community names first, personal objectives second.
All users prefered to use their
personal objectives
 (like to find better education resources) as guidelines to search for services. Meanwhile, they prefered to use
community names
 as the first layer filtering labels, because they believed that the services categorized under their own community labels have larger possibility to meet their objectives. 
As we noticed that long-term and frequent repetitions and passive waiting time are the triggers for users to remember and notice the information, our second design requirement along with its corresponding design decision were made:
Authoritative and Positive Correlations
1 Insight, 2 Observations, 1 Design Requirement, 1 Design Decisions
This group of concepts aimed at explore possibilities of tying more authoritative and positive media to city services and their outreach channels. 
The tested prototypes utilized existing resources and media generally trusted by immigrant residents(like bank promotion materials and utility bill pay portals) as outreach channels for city service information.


The testing results showed that the authoritativeness of the media we utilized in the concepts could not help our users to immediately build trust on the city service information. Though most information carried in our prototypes fit their actual personal needs, users showed obvious hesitations in their reactions to the information carried in our prototypes. During the conversations, many users mentioned the people who they trust rather than the organizations or platforms they trust:
Elder's voices are trusted.
The most trusted sources of information for new immigrants are
elder immigrants
who settled in Chicago earlier than them, and the most effective channels of information for them are
words of mouth
.

This observation aligned with the outreach strategy Chicago Office of New Americans (ONA) were using at that time. Form the stakeholder interview at the very beginning, we learnt that ONA was recruiting immigrant community representatives (called the Elders) as their information outlets.
However
, as we talking to the immigrant families we visited,
none
of them knew about the existence of ONA and its excellent prompts and services for Chicago immigrants. The information conveyed through the community Elders' words did not successfully become a word of mouth message that people generally trusted.
Gaps were still not bridged
. At this point, we believed that there should be a deeper insight behind this observation that could become a game changer for the whole project. Therefore, we decided to pivot to do
deeper research
focus on how do immigrant residents
screen, utilize and redistribute information
they received from other people.
Pivot to deeper research to find the real opportunity
Though we narrowed the research question to focus on how do users deal with information from other people, we broadened our research target to
include old immigrant residents
who settled in Chicago decades ago, for opportunities to study how the new immigrant residents' trusted ones receive and pass the information.
#In-depth Interviews#
 We decided to conduct in-depth interviews with the users, so that we could sit down with them to slowly but detailly talk about their past experiences, some of which we thought may involve sensitive negative emotions. 
#3 New Immigrant Families#
 We connected back to 3 immigrant families who participated our initial concept testings, 2 from Chinatown and 1 from Pilson, for the interviews.
#2 Old Immigrants#
  2 of the new immigrant families introduced us to their immigrant friends who were their trusted "Elders" in the community.
#1 Insight# The Game Changer
They Trust the Stories, Not the People
The interviews focused on two main topics -
who they trust
and
who they do not trust
. 
​​​​​​​
All the users only expressed fully trust on one or two people. Unsurprisingly, the trusted ones mentioned were mostly people with similar background. However, many of the untrusted ones were also same background people. Therefore,
the degree of trust is not directly related to the background similarity
. 
So what do directly relate to trust? As we digged deeper into
what triggered trust or distrust
, a pattern was uncovered:
Two triggers for trust or distrust:
personal experience
and
stories of other people
. 
Successes and frustrations experienced in person gives people a sense of how trustworthy a person is. While their impressions and knowledges of a stranger are usually generated from stories of other people interacting with this stranger. 


What excited us next was that the same pattern also appeared on when we studied how people's perspective on city services were shaped. Recalling all the conversations with our users, there was always a
"They used the service before."
following behind the
"They said that

the service

was good/bad."
Our game changing insight was then synthesized:

What we were wondering at this point was that, people trusted stories and have their own story resources, but why were they not hearing the stories of the excellent city services that was currently offered? We knew
something was going wrong with the word of mouth stories
.
Things Have Changed, But Stories Haven't
During the interviews, new immigrant families mentioned a lot about how they listened to their old immigrant friends advice to avoid fraud organizations and bad services when they first arrived in Chicago. While the stories of old immigrants were more bad memories of how they were defrauded by illegal organizations or suffered from bad staff attitudes and tedious procedures of city services. After mapping and comparing the stories told by the old and new immigrant residents, we uncovered the connection between them.

By the time when the old immigrants first arrived in Chicago decades ago, their only social connections here were the local organizations, some of which may be fraudsters, and their most direct resources were the city services, some of which may be poorly designed. After experiencing countless disappointments, frustrations and hurts, they no longer wanted to explore newly emerged local organizations and city services, but had spent the years under extreme self-protections to minimize losses.
However, kind people like them, despite being wary of the world due to all their negative experiences, still wanted to protect newcomers from these pains. Therefore, when facing new immigrants who just came to Chicago asking for their advice, they chose to use their past painful stories to warn them to be away from fraudulent organizations and avoid poor city services. 


In fact, in the past few decades, Chicago's most city services and immigrant community organizations have become welcoming and valuable after many iterations and upgrades. However, new immigrants to Chicago who have heard too many negative old stories have lost their willingness to explore the unfamiliar organizations and city services. As a result, immigrant residents were missing the high quality city services and meanwhile those services were losing the opportunities to be known through stories.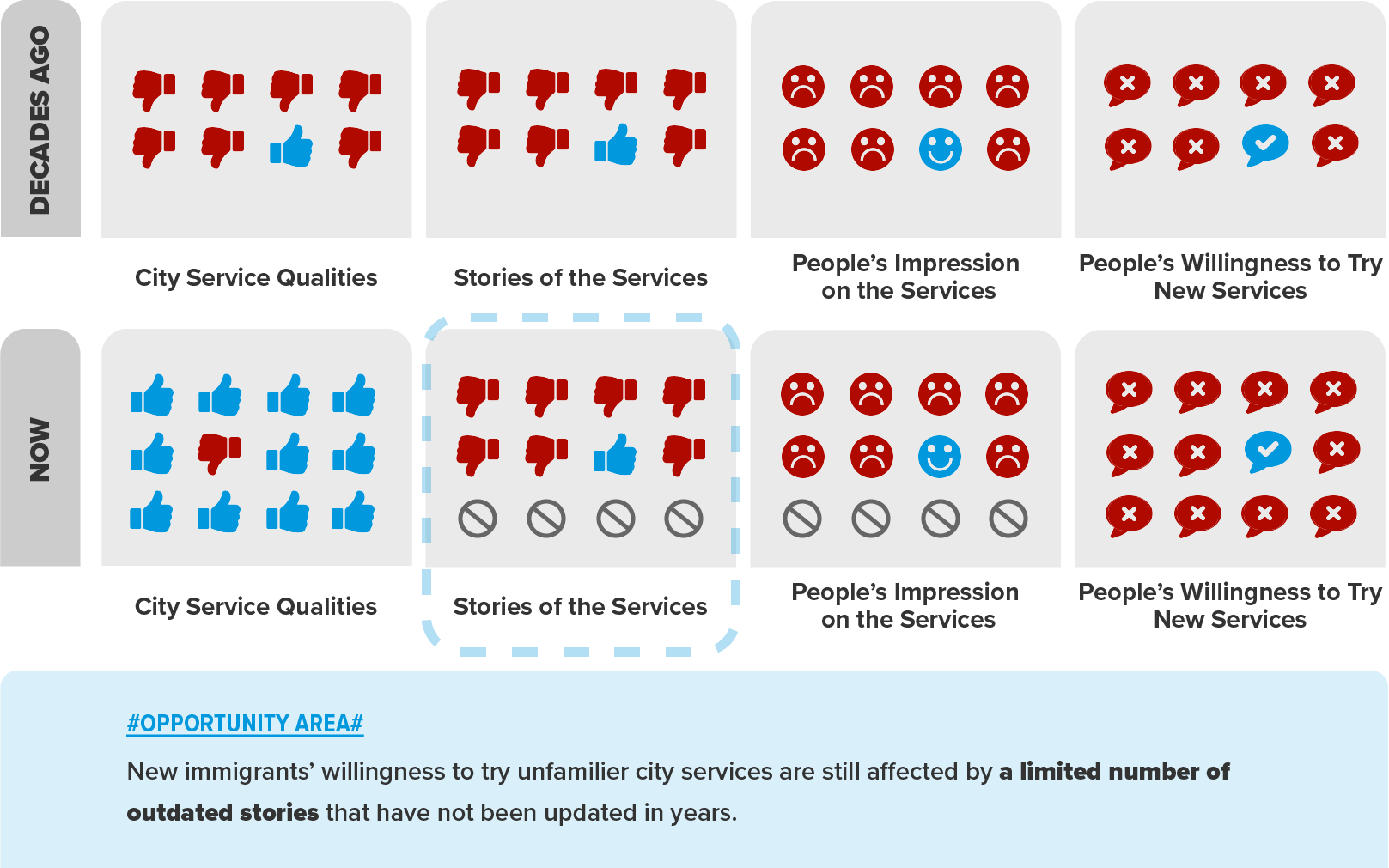 The discovery of this opportunity area drove our project to a very actionable design direction with many innovative possibilities:​​​​​​​
#Final Design Direction#
Up-to-date Story Sharing
• Introduce new stories
of improved or newly emerged city services to immigrant residents
• Encourage sharing
of immigrant residents' own new stories within the immigrant communities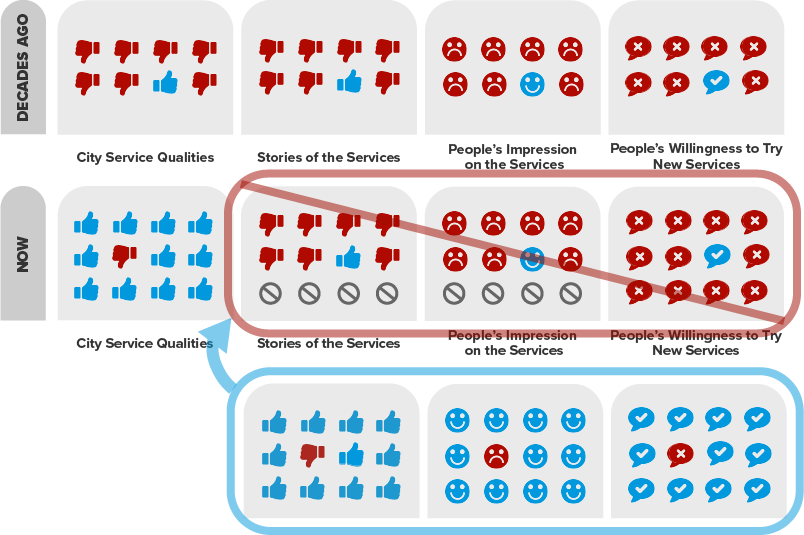 Testing WITH Service Providers TO POLISH FINAL CONCEPt
After brainstorming, filtering, integrating and iterating our ideas with the final design direction and design requirements, we conducted a initial service blueprint for our final concept. We then contacted back to our client and the stakeholders involved in the service blueprint for a concept testing session to
polish the details
of the blueprint from the
service providers' perspective
.​​​​​​​
#FINAL CONCEPT#
Dear Chicago
Dear Chicago is a story sharing platform that allows immigrant residents to share and listen to service needs based stories in their native languages through online archive or offline physical listening stations. Label filtering system is built into the online archive and outreach channels are implemented into immigrant residents' life environment.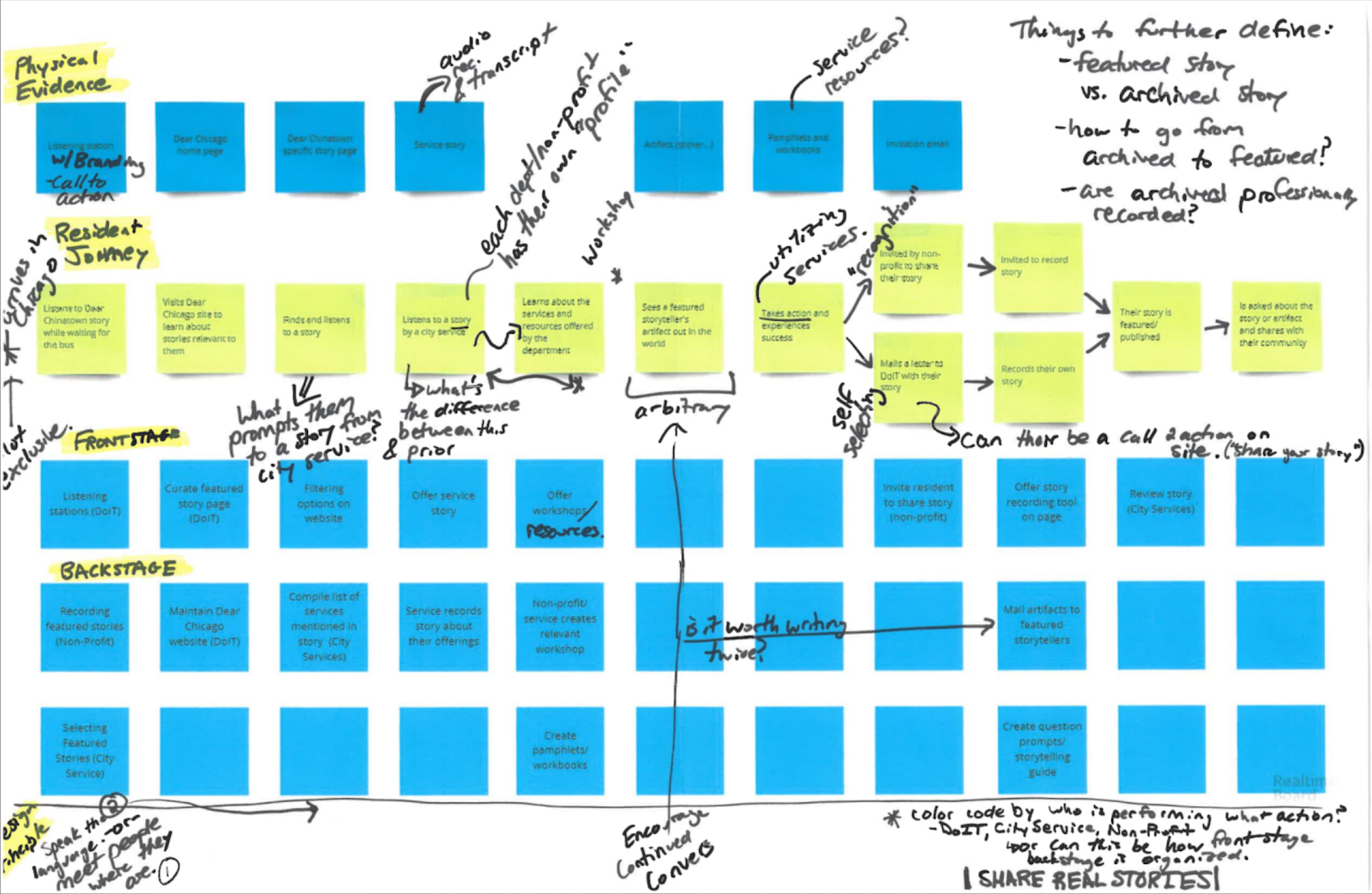 #Focus Group# 
We arranged an online meeting session with our client and representatives Office of New Americans to detailly go through our design and consult the feasibility and viability of all details in the service blueprint.
Some minor changes were make to
reduce the service providers' efforts
in order to make the whole concept more actionable. 
We simplified the submitted story screening process and involved more city departments to share the responsibilities of initiating story sharing of new city services.
The final concept was presented to our client and other city departments representatives through a user story
of how a newly arrived Chicago immigrant utilizes city services under Dear Chicago's help while trying to start a restaurant business.
Since most of the audiences were from a non-design background, we chose to integrate the detail explanation of the key features and touch points into the user story and let the story to lead the presentation.
In our earlier stakeholder research, we learned that for city departments, the threshold for mobilizing resources to build a complete new service system from scratch could be very high. While Dear Chicago was such a design concept that required the city to mobilize plenty resources to realize. Although we worked very hard to reduce the effort required by service providers while refining the final concept, we were still worried about whether our audience will accept such an unprecedented concept that require large upfront investment. 
However, the very positive feedback we received right after the presentation dispelled our worry. Then 3 weeks after the presentation, we were so happy to receive an email from our client telling us that audiences who watched our presentation were still thinking about Dear Chicago and chatting about how to make it happen. 
"It's a sign of cultural change."
said our client Jason Kunesh. It was such a pleasure for us to see that our research, our design and the story we told not only
provided value to our lovely users
, but also
influenced the non-design audiences
.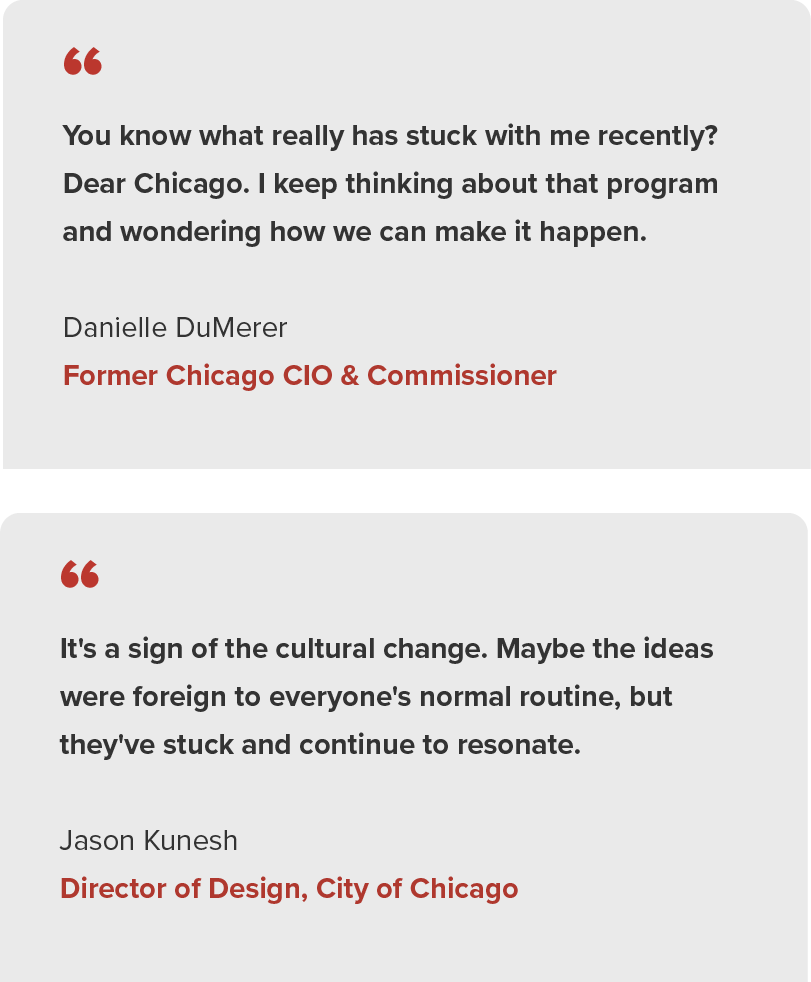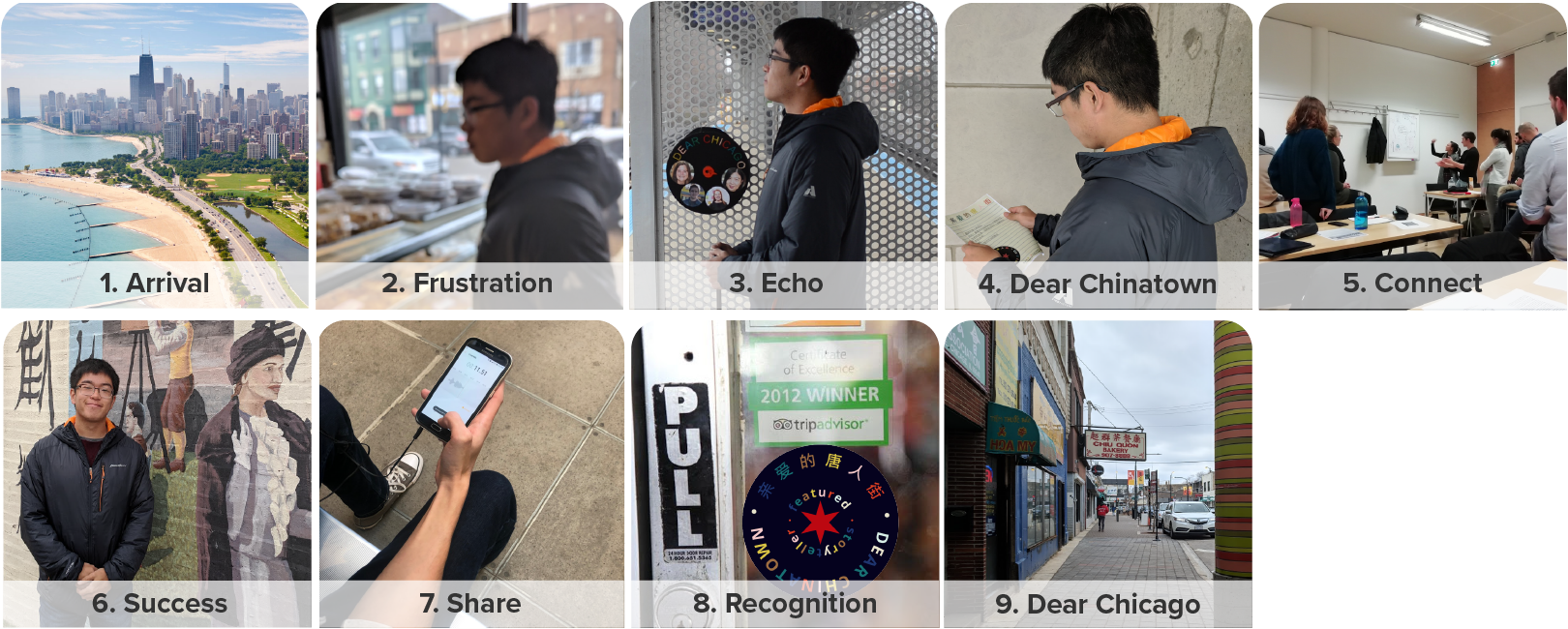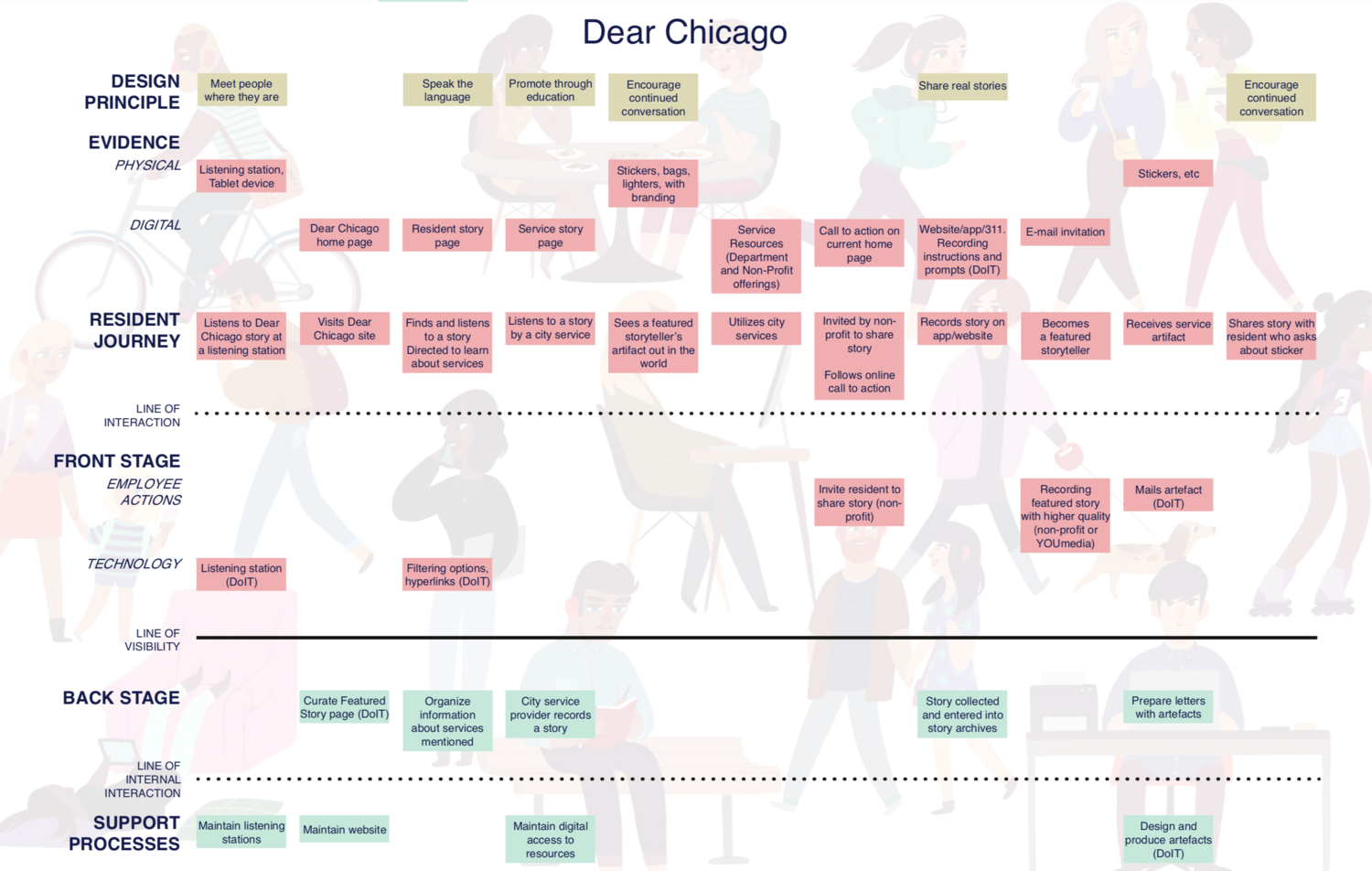 Our client Jason Kunesh from DoIT
All the City of Chicago staffs who helped with our research
All the lovely Chicago residents who shared their valuable stories with us